Availability: 6 In Stock
Usually ships in 1 business day + transit time
ships in 1-2 business days + transit time
When will my order arrive?
SKU#: 911hs25437 UPC: 184392000739 Weight: 0.2 lb
Newly updated - Purity's B-12 Energy BerryMelts Formula now includes the super fruits Acai and Gogi Berry. This innovative Vitamin B-12 energy-support formula is designed to give you a safe energy melt in a convenient, quick dissolve mini-tablet. The ideal alternative to caffeinated pills, energy shots or beverages, B-12 Energy BerryMelts fit easily in a purse or a pocket, making it perfect for people who need a B-12 energy lift even when they're on the go.
Purity's B-12 Energy BerryMelt is a quick dissolving, great tasting chewable supplement that promotes energy and focus with essential B vitamins. Vitamin B12 is a key energy vitamin. B12 is needed for metabolism of carbohydrates, which serve as the body's fuel. Additionally, B12 builds proteins, strong red blood cells and healthy nerves.
Rounding out this innovative formulation, Vitamins B6, D3, Folic Acid and Biotin work as a nutritional team to help maintain healthy blood cells, strong bones and healthy brain function while supporting cellular energy production.
New and Improved! Increase Energy and Stamina
Promote Mental Clarity and Focus
Boosts Vitality
Ingredients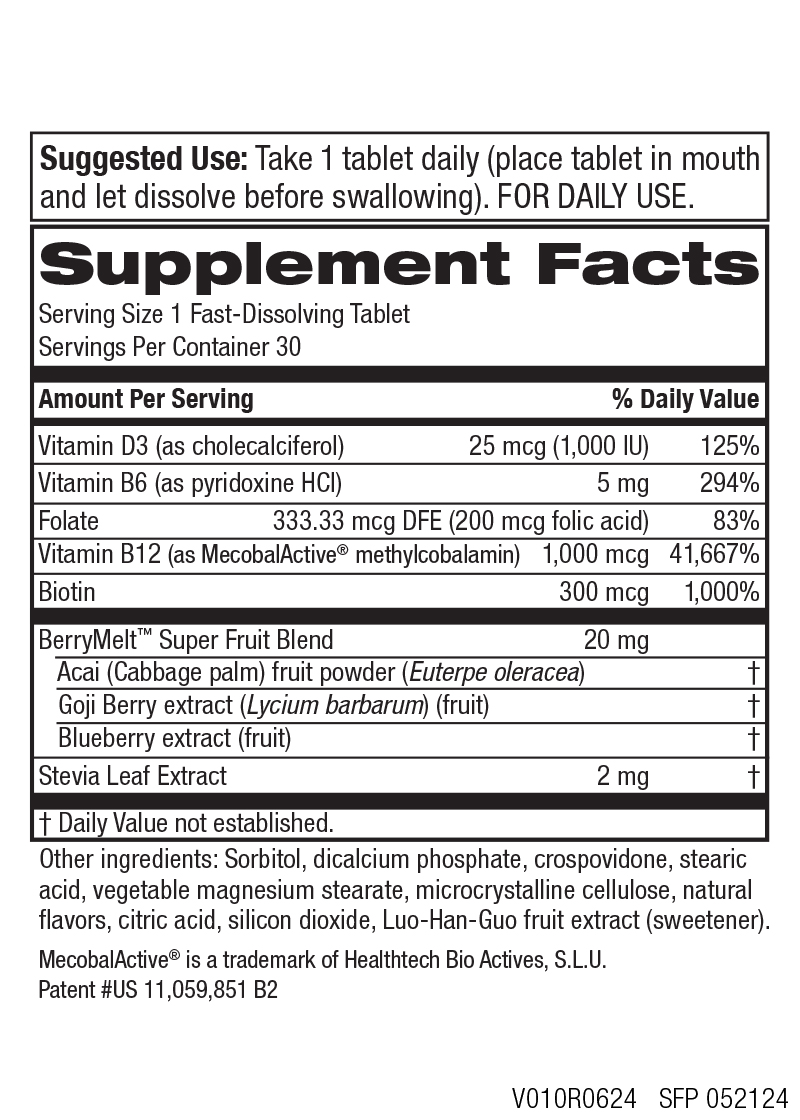 Suggested Use
As a dietary supplement, take 1 tablet daily (place tablet in mouth and let dissolve before swallowing). Best results obtained with daily use.
Customer Reviews & Ratings
These statements have not been evaluated by the Food and Drug Administration. This product is not intended to diagnose, treat, cure or prevent any disease. If you are pregnant, nursing, taking medication, or have a medical condition, consult your physic ian before using this product.