Purity's C & D Booster Formula is a great way to bolster your daily regimen with key Vitamins C and D. Even better, the new super formula also provides a powerful Citrus Bioflavonoid Complex, along with key compounds Rutin, Rose Hips, and Acerola. Bioflavonoids are well recognized for their ability to support veins and capillaries, thus helping to maintain healthy blood vessels and normal circulation. Along with Vitamin C, Bioflavonoids are needed by the body to healthfully manufacture connective tissues like collagen and elastin. Vitamin C and D Booster Formula is a 90 day supply providing optimal value and 3 full months of cutting edge vitamin C and D supplementation.


Maintains Healthy Immune System
Cardiovascular Support
Supports Skin Health
Maintains Healthy Vein Structure and Function
Supports Healthy Collagen and Elastin
Maintains Bone Health

PureWay-C -- A Vitamin C that contains vitamin C-lipid metabolites

PureWay-C is an exciting new form of Vitamin C that contains Vitamin C-lipid metabolites. This consumer friendly form enhances delivery, availability, absorption kinetics, distribution, uptake, concentration, and utilization efficacy of essential Vitamin C in the body. PureWay-C also prolongs blood plasma and tissue retention of Vitamin C.

The Science Behind PureWay-C

Vitamin C has been implicated in promoting a healthy nervous system, supporting the immune system, circulatory system, brain function and the maintenance of healthy energy levels. We present a new Vitamin C formulation, PureWay-C which is a active Vitamin C which is well absorbed by the body and supports neurite outgrowth, healthy fibroblast activities and supports the immune system. The ability of PureWay-C to quickly affect cell behavior is an indication of its rapid cellular uptake and improved activity in providing the benefits of Vitamin C supplementation.

Comparative research studies in vitro and in humans demonstrate that PureWay-C is rapidly absorbed and leads to higher plasma and cellular levels, having faster and more beneficial effects than Ascorbic Acid, Calcium Ascorbate and other ascorbate brands. These benefits include healthy stimulation of neurite outgrowth, maintaining fibroblast activities, support of the immune system, and maintaining already normal plasma levels of C-reactive protein and oxidized LDL already within the normal range, as well as more potent antioxidant and higher free radical scavenging capabilities.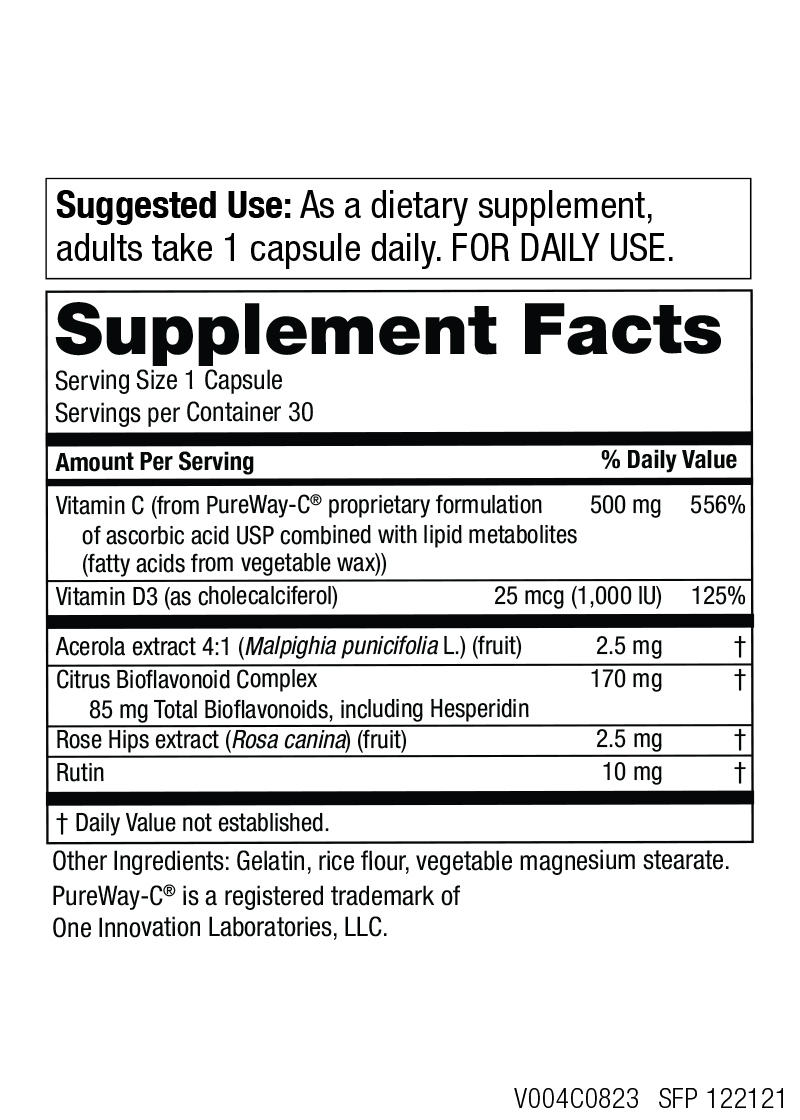 As a dietary supplement, adults take 1 capsule daily. Best results obtained with daily use.


Overall Rating for
Vitamin C & D Super Immune Formula by Purity Products - 30 Capsules