Featuring the Patented Ingredient EpiCor
Helps the Immune System Cope with Daily Stress
Helps Support Good Respiratory Health

Immune Support Within as Little as a Few Hours

Fast Action Immune Support features a cutting edge ingredient called EpiCor, along with the complementary time-tested benefits of Vitamin C. Backed by multiple human studies, Epicor is an all-natural nutritional health ingredient that helps support the immune system. It is a unique, complex ingredient comprised of protein, fiber, vitamins, amino acids, antioxidants, and other metabolites. Taken daily, EpiCor has been shown to be a safe and effective way to help support immune health and maintain wellness.

Unlike many other immune health ingredients on the market, EpiCor does not stimulate or "boost" the body's immune system; it balances it. A balanced immune system makes the appropriate response at the right time. EpiCor is clinically proven to be a safe and effective way to help support immune health for year-round health and wellness. As with most things in life, balance is best.

Supporting the body at the first level of immune defense, the innate immune system (or mucosal barrier), EpiCor helps activate certain key immune system cells which are an integral part of immune defense. Research shows that EpiCor also works further down the line when the adaptive immune system kicks in by activating B cells, which support antibody production. EpiCor also contains antioxidants that further support a healthy body by scavenging dangerous free radicals.

Fast Action Immune Support has been demonstrated to start working to support the immune system within only hours of ingesting. As a daily dietary supplement, it can deliver the following key benefits:


Helps keep immune functions balanced
Helps balance the immune system for optimal performance
EpiCor acts like a multivitamin for the immune system
Helps the immune system cope with daily stress
Immune support for the challenges of daily stress
Immune support for year-round good respiratory health
Cold Weather immune support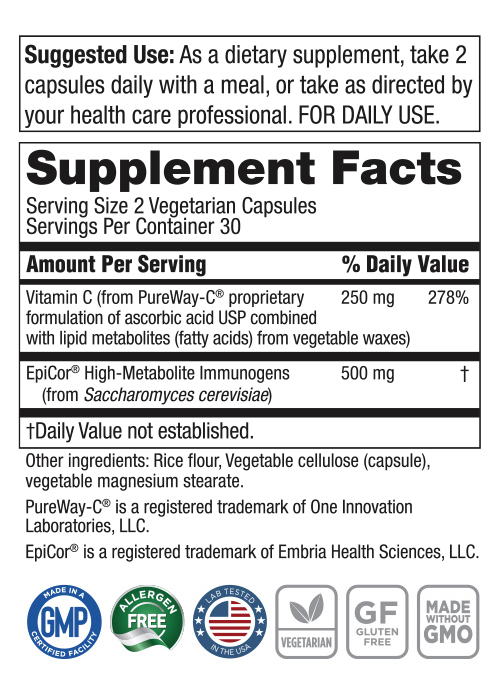 As a dietary supplement, take 1 capsule daily with a meal, or take as directed by your health care professional. Best results obtained with daily use.


Overall Rating for
Fast Action Immune Support by Purity Products - 30 Vegetarian Capsules