Multivitamin • Omega-3 • Coenzyme Q10 • Phytonutrient • Probiotic

INCLUDES


Perfect Multi Super Greens
Ultra Pure Omega-3 Fish Oil
Coenzyme Q10

Advanced Multivitamin with Powerful Greens Blend

Our elite Perfect Multi Super Greens is unique because it provides 60 cutting edge nutrients to support healthy aging, immunity, cardiovascular health, brain health and healthy circulation. One reason The Purity Pack is so advanced is its provision of extra high levels of powerful phytonutrients from fruits, berries and vegetables. Each packet has the antioxidant power of more than 9 servings of fruits and vegetables or 10,000+ ORAC units (an antioxidant measurement), much MORE antioxidant power than many leading brands.

Pharmaceutical Grade Fish Oil for Exceptional Purity and Quality

The two key active ingredients in Fish Oil, DHA and EPA, are widely recognized for their positive influence on many organs and tissues. Fish Oil comprehensively supports healthy heart and cardiovascular function, circulation, the structure and function of cellular membranes, healthy brain development and even healthy skin. Purity's fish oils are concentrated and molecularly distilled, a process that removes contaminants and locks in the purity. Our Ultra-Pure Omega-3 Fish Oil from Norway is lemon-lime flavored, non-repeating and ultra refined.

Heart & Energy Support with CoQ10

Few nutrients for the heart have been as well researched as Coenzyme Q10. CoQ10 is a potent nutrient that mediates a variety of biological effects. In the body, it functions to convert (in the mitochondria) components from our nutritional intake into ATP, energy the body can use. CoQ10 also supports the body's defenses against free radicals in its role as a powerful antioxidant. Studies have shown that CoQ10 supplementation supports cardiovascular health and normal energy production. Because of its role in energy production and its function as a powerful antioxidant, CoQ10 has also been studied for supporting healthy aging. While CoQ10 is produced and stored in all human cells, research shows that as we age, the production of CoQ10 can decline and therefore, supplementation is of the utmost importance.

The Probiotic Revolution

A probiotic is a micro-organism that contributes to the health and balance of the intestinal tract. Probiotics are "friendly" or "beneficial" bacteria which when ingested help us maintain the health and function of gastrointestinal tract. Studies now show that an optimal "balance" in the microbial population is associated with good health in humans. The composition of our intestinal microflora is constantly changing, being influenced by factors such as diet, emotional stress, age and treatment with antibiotics or other medications. A logical approach to restoring the balance of intestinal flora is the use of probiotics.Purity's proprietary "BioAbsorption Complex" featuring Bioperine, and Lactospore aid in both enhanced nutrient absorption and bioavailability while also providing you with the probiotics you need maintain the health of your GI tract.

What Makes The Purity Pack So Unique:


Comprehensive array of essential vitamins and minerals
10,000+ ORAC (antioxidant equivalent of more than 9 servings of fruits and vegetables)
Proprietary "BioAbsorption Complex" featuring Bioperine and Lactospore Probiotics for enhanced nutrient absorption and bioavailability
Concentrated pharmaceutical-grade Omega-3 fish oils
50 mg CoQ10 to support cardio health, skin and energy levels
Reinforced with 800 mcg Folic Acid, 2000 iu Vitamin D3 and 500 mg Vitamin C
10 mg FloraGlo Lutein proven to support vision and skin health*
SelenoExcell 100% organically complexed selenium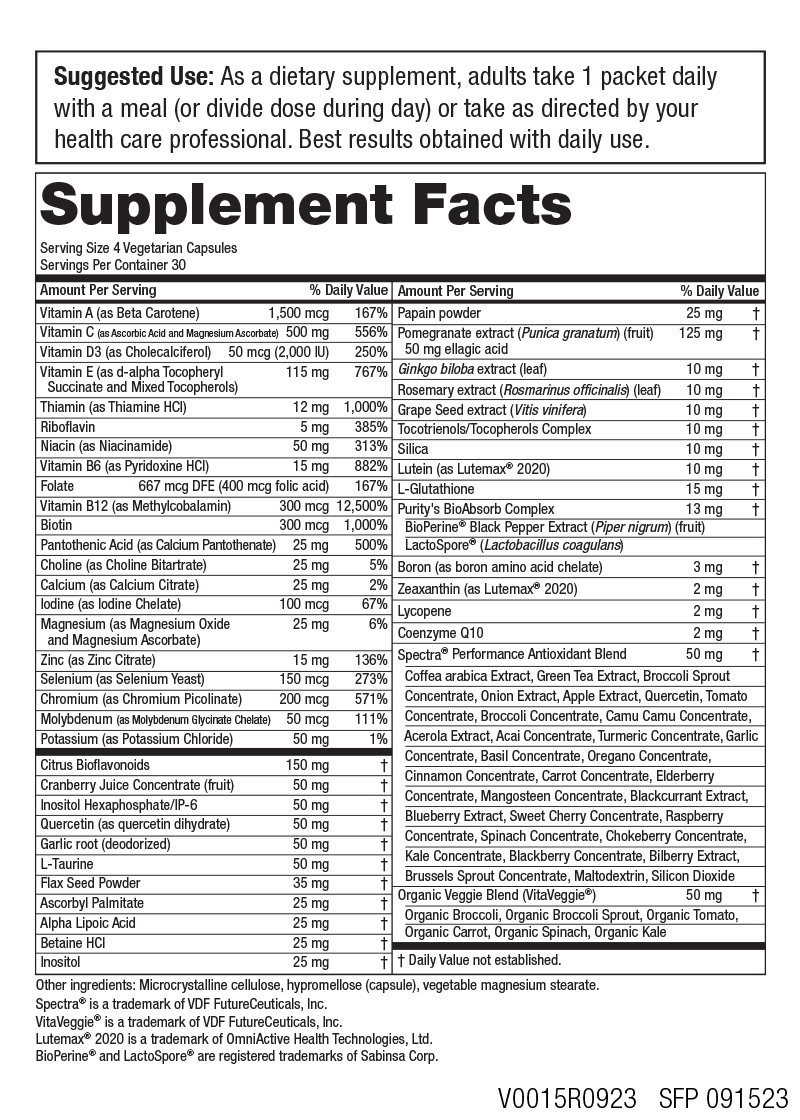 As a dietary supplement, adults take 1 Packet daily with a meal (or divide dose during day) or take as directed by your health care professional. Best results obtained by daily use.


Overall Rating for
The Purity Pack by Purity Products - 30 Packets