Purity Products Green Coffee Bean Super Formula with Raspberry Ketones - 60 Capsules
By: Purity Products
SKU#: 911hs25460 UPC: Weight: 0.4 lb
Green Coffee Bean Super Formula is the Best of Both Worlds -- Green Coffee Bean Extract + Raspberry Ketones
Green Coffee Bean Super Formula is an elite, new supplement that helps maintain a healthy body weight by supporting efficient metabolism of fat.* Green Coffee Bean Super Formula combines two effective fat-burning ingredients-Svetol Green Coffee bean extract and Razberi-K Raspberry ketones-plus Vitamin D to promote lean body mass.* With Green Coffee Bean Super Formula you are taking advantage of two of Nature's leading fat loss compounds which together can help you reach your weight loss goals.
Svetol An Elite Green Coffee Bean Extract with Proven Slimming Action
Svetol is a proprietary decaffeinated green coffee bean extract that features a profile of active components called "chlorogenic acids." Safe compounds found in a number of commonly consumed foods, chlorogenic acids exhibit health benefits. Scientific studies, in both animals and humans, have confirmed the effects of green coffee bean extract - and chlorogenic acids specifically - on fat metabolism.* Chlorogenic acids appear to support the body's ability to turn fat into energy and reduce fat accumulation. In a clinical study of 50 people aged 19 to 75, subjects taking Svetol achieved significant decreases in Body Mass Index (BMI) compared to those given a placebo. These results were attributed to Svetol's effect on reducing fat reserves. Bioavailability studies have shown that chlorogenic acids in Svetol are well absorbed in the digestive tract.
Razberi-K the Raspberry Ketone Metabolic Enhancer
Featured on major network television, raspberry ketones are gaining rapid attention in the scientific world as a safe aid to healthy weight control. Razberi-K contains one particular raspberry ketone that is especially effective in supporting reduction in body fat.* As a follow-up to studies showing that Razberi-K promotes fat-burning in animal models, a double-blind, placebo-controlled pilot study was conducted on a group of athletic men and women to test the effect of Razberi-K on fat burning after exercise. A trend toward increases fat burning was observed 30 minutes post exercise in subjects who took Razberi-K.
Vitamin D Supports Healthy Weight Management
Among its many better known health benefits, vitamin D helps maintain a healthy body composition.* Two large surveys of nearly 20,000 men and women show that higher vitamin D intakes correlate with lower BMI. In a group of people 65 and older, lower body fat percentages were shown to be similarly connected to higher blood levels of D. In a large, randomized double-blind study, 36,282 postmenopausal women aged 50 to 79 consumed either a placebo of a combination of vitamin D plus calcium daily for seven years. The supplemented women experienced slight but statistically significantly smaller increases in body weight.
Clinically researched ingredients - Green Coffee Bean Extract and Raspberry Ketones
Promotes a lean body and healthy body weight*
Helps the body maintain a toned appearance*
Supports the conversion of fatty acids to metabolic energy*
Supports a Healthy Metabolism*
Supports Healthy Energy Levels*
*These statements have not been evaluated by the Food and Drug Administration. These products are not intended to diagnose, treat, cure or prevent any disease.
Ingredients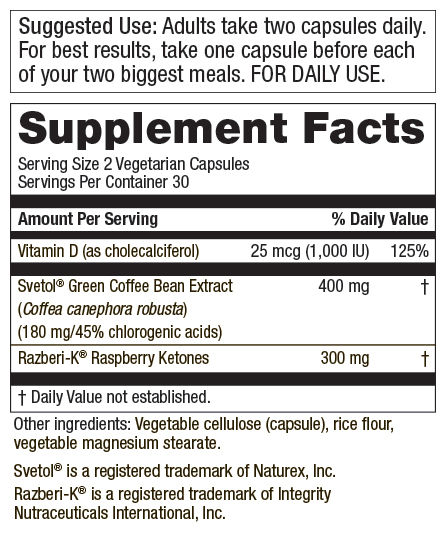 Suggested Use
Package Description: 60 capsules, 30 day supply Serving Size: 2 capsules daily Number of Servings: 30 As a dietary supplement, adults take two capsules daily. For best results, take one capsule before each of your two biggest meals. To optimize benefits, double the dose for the first 15 days.
Customer Reviews & Ratings
These statements have not been evaluated by the Food and Drug Administration. This product is not intended to diagnose, treat, cure or prevent any disease. If you are pregnant, nursing, taking medication, or have a medical condition, consult your physic ian before using this product.