Supports Normal Cardiovascular & Arterial Health
Promotes Healthy Brain Function
Supports Beautiful Healthy Skin

Proactively Support Your Heart, Brain, and Joints

Now you can enjoy all the benefits of Purity's famous high grade Omega-3 Fish Oil along with 50 mg of the clinically proven power of Coenzyme Q10. The molecularly distilled, ultra-pure, super-concentrated Omega-3 fish oils contained in the formulation are part of Purity's commitment to high quality, contaminant free products that are third party tested. Just two soft gels deliver 640 mg of EPA, 420 mg of DHA, and 50 mg of CoQ10, supplying a sensible combo of evidence-based nutraceutical ingredients that work towards the same goals.

Why CoQ10?

Few heart nutrients have been as well researched as the vitamin-like Coenzyme Q10. This coenzyme is a crucial member of the electron transport chain, a key biochemical process that acts to catalyze the production of ATP, the primary source of energy for normal function of cells, tissues, and organs. CoQ10 is especially important in its ability to work against oxidative stress caused by free radical accumulation in many areas of the body—including neuronal cells, which play an essential role in the maintenance of cognitive function. The brain is particularly susceptible to oxidative stress, and CoQ10 has been shown to stabilize the mitochondrial membranes in the nervous system.

Clinical studies have demonstrated that the amount of CoQ10 naturally synthesized decreases as healthy people age. Co-Q-Omega supports healthy aging by providing highly absorbable CoQ10 for antioxidant support during the process of cellular energy production. Supplementation with CoQ10 may optimize its concentration in the mitochondrial membrane, improving the efficiency of brain and skeletal energy metabolism. In turn, this kind of improvement in efficiency promotes optimal cellular function—the kind of improvement that is welcome if we desire to age gracefully.

When CoQ10 is ingested orally, the majority is converted to ubiquinol, the reduced form of CoQ10. Ubiquinol is a potent antioxidant in humans, acting to balance the oxidative stress occurring in our cellular membranes and our blood lipoproteins. In fact, supplementation with CoQ10 has been shown to give lipoproteins a helping hand in their resistance to the everyday lipid peroxidation they face. This is yet one more process by which Co-Q-Omega may act to enhance cellular bioenergetics and promote maintenance of optimal cardiovascular health.

Ask for "Purity" in Omega-3 Fish Oils

Eicosapentaenoic acid (EPA) and docosahexaenoic acid (DHA) are conditionally essential Omega-3 polyunsaturated fatty acids that are primarily found in the phospholipids that comprise structural support for our cells membranes. Having a good ratio of these fatty acids in our cell membranes contributes to our health in numerous ways. The exciting aspect of this equation is that research has shown supplementation with EPA & DHA can directly influence the makeup of our cell membranes! Purity's molecular distillation process establishes Omega-3 Fish Oils free of environmental contaminants such as PCBs, mercury, lead, and pesticides—ensuring that you are truly receiving a quality product containing 640 mg of EPA and 420 mg DHA.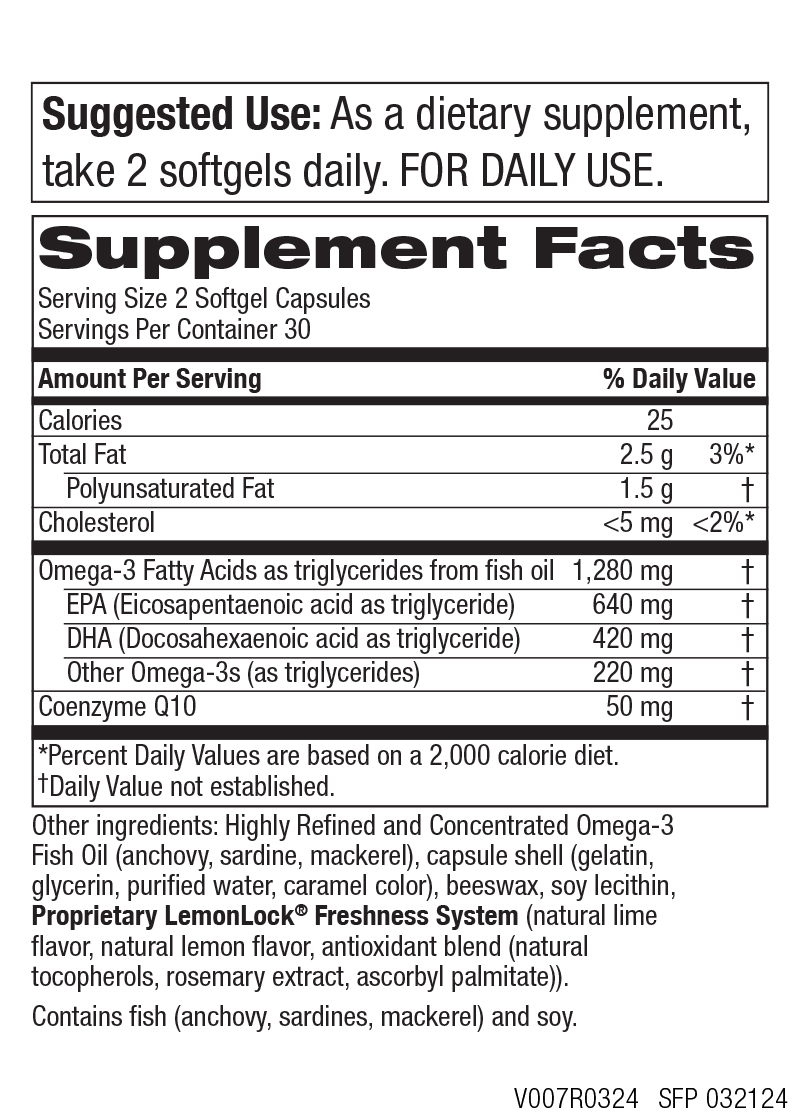 As a dietary supplement, take 2 soft gels daily with a meal, or take as directed by your health care professional.


Overall Rating for
Co-Q-Omega by Purity Products - 60 Soft Gels